How can you position your company to be in front of thousands of people without them going to your site? A newsletter program can accomplish that goal, promoting your site, products or information.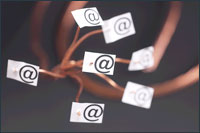 Our email marketing program makes it simple to send your message to thousands of people on your mailing list. We can help you with all aspects of your campaign, from planning and design to copywriting and tracking after sending. Whether you want a custom look or a template that you can drop your content in and send, we can walk you through the process step-by-step.
Planning
We work with you to design a newsletter program to accomplish your goals and objectives. We can make a custom newsletter (including links, logo and colors), or show you how to use one of over 100 professionally designed templates to get your newsletter out in minutes.
Perfect tool for: Newsletters, Promotions, Announcements, Holiday and Seasonal greetings, Invitations and Special Offers.
Custom Newsletter Creation
This process covers newsletter design, layout, HTML, and the writing of the copy. Here you can replicate the look and feel of your website or design a complimentary layout.
Delivery and Tracking
Delivery will include HTML and text versions of the newsletter. The tracking program will track number of emails sent, number opened, how many click-throughs and the number of bad email addresses are in your mailing list. Our newsletter program will also manage any subscribers that wish to be removed from your list, and is CAN-SPAM compliant.
Here are just a few of the benefits of sending an email newsletter campaign:
Brand & market your company's services
Promote new products and services
Increase client interests and sales
Cost effective marketing option
Build client trust and credibility
Show your expertise in your field
Grow your prospective client database
Build referral subscriptions
Keep clients informed (you, your business, industry)
Track recipients & the success of your promotions
Collect email addresses of your site visitors with a "join my list or e-newsletter" sign up on your web site. Then, easily create and send compelling email newsletters, promotions and announcements to keep them coming back.
Contact us for more information on our Email Marketing services