MorePro's SEO Services Can Help Improve Search Engine Rankings for Small to Midsize Businesses (SMEs)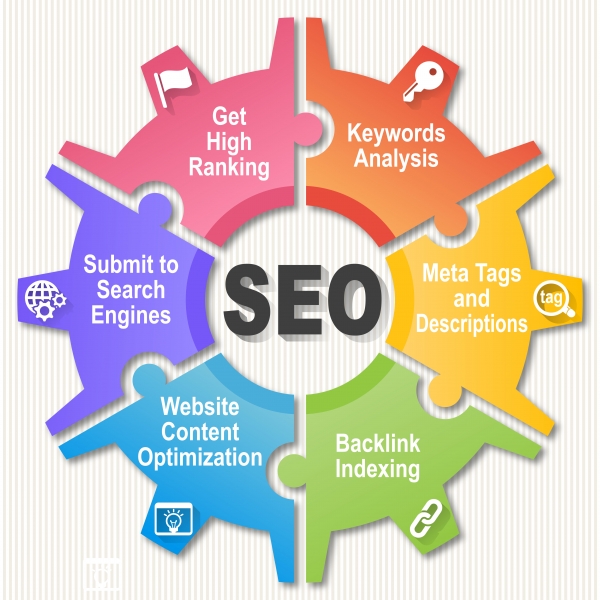 You invested the time and money in creating a website for your business, but is it getting the results you want? To grow your website traffic – and get more customers – you need an ongoing Search Engine Optimization (SEO) plan. SEO continues to be one of the most important digital marketing strategies (and more importantly Local SEO) that drive long-term results.
For 22 years, MorePro Marketing has provided Local and National SEO services for small and medium-sized businesses. We have worked with companies local to the area they serve and businesses with a nationwide presence in a variety of industries including hospitality, lodging, IT, construction and more.
Our team is dedicated to helping your business achieve its goals through our effective and proven system. As your digital marketing partner, we will develop, manage, and measure SEO campaigns that focus on your demographic and geographic targets.
We employ writers who produce not only SEO-optimized content, but quality content. Gone are the days when you could "keyword stuff" an article without much regard to the overall message. Google still looks at keywords, but quality is critical and there is an art to crafting words that persuade and inspire potential customers.
Why Do You Need SEO?
You can have a well-designed website with the latest bells and whistles, but if your target audience isn't finding your business in search – you're losing out on customers and revenue. Without a Local or National SEO plan, you can only hope the right people find it. But "hope" is not a viable marketing strategy. Generating targeted traffic takes knowledge, research, creativity, well-written content, and constant evaluation and it starts with a local presence if your business has a local address.
Our approach includes:
Local SEO Tactics
Website must be mobile friendly
Keyword-Rich Titles and Tags
Keyword Phrase in first 100 words
Outbound Links
Target keyword in the URL
Long-form content
Take Advantage of Internal Linking
Image Optimization
Ensure your site is fast
Answer reviews and be active on social media
Start title tags with your target keyword
Here we take a deeper dive into 20 of the key elements we use when optimizing your website.
SEO Statistics (July 2020 https://www.statista.com/)
Every website whose business has a local presence should start here for getting high rankings in Google and Bing.
Search Engine Percentage Statistics USA
Google 87.61%
Bing 7.02%
Yahoo 3.38%
All others 1.99%
Local SEO Statistics (June 2020 https://seotribunal.com/)
1. Almost 50% of Google searches are local.
With 40 to 60 billion monthly searches on Google in the US alone and 91% of adult searchers doing it to find information, the search market offers an abundance of opportunities. What is fascinating though is that almost half of the searches (46%) are local Google searches with much higher potential for conversion.
(Saga Pixel)
2. 86% of people look up a business location on Google Maps.
Local search stats indicate that 86% of people tend to look up the location of a business on Google Maps before doing anything else. So, to get your enterprise out there, the most important thing you can do is claim your business page and let Google Almighty help your potential prospects find you more easily.
(Junto)
3. 80% of local searches result in conversions.
From "petrol pumps near me" to "where to buy dog food near me", searching locally is used to meet a variety of needs. It follows then that one of the local search facts would be that 80% of these searches convert. In fact, if you think about it, when you search for something locally it is because you need something specific and most probably need it right away.
4. Only 44% of retailers have free Google My Business listing.
The good news is that Google My Business listing offers an excellent opportunity to drive higher traffic which is why it most definitely must become part of your local SEO. The bad news is that local SEO statistics indicate more than half of retailers have not registered on GMB despite the widely acknowledged power of Google not just over the general search behavior but as a useful tool for creating a successful SEO strategy.
5. Seven out of 10 people visit a store within 5 miles of their location after a local search.
With searching locally having skyrocketed in the past couple of years, in addition to offering convenience to shoppers, they also provide marketers with the opportunity to show their sales skills in person. Local search statistics show that 72% of people who conduct searches locally will most definitely visit the store located within a five-mile radius of their current location. So, roll up your sleeves, put on your "salesperson of the year" face, and be prepared to welcome and introduce customers to your products or services.
6. 61% of searches made on mobile result in contacting the businesses with mobile-friendly sites.
Just to be clear, customers like to conduct their due diligence about the product they are eyeing online before making a purchase. Local search trends indicate that 61% tend to research first and buy later, while a staggering 88% have the same trust in online reviews as in personal recommendations. Another reason to make your site mobile-friendly is that 18% of location-based searches end with a sale on the very same day the web search query was made.
7. Almost 70% of consumers leave a local business review.
An astonishing 95% of customers are in the habit of reading reviews before deciding to buy something. In general, products with star ratings between 4.0 and 4.7 are more likely to be purchased than the ones with 5.0 ratings. Strange, right? Well, local search stats further show 68% of customers take matters into their own hands when it comes to ratings and tend to leave reviews. So, with 97% of customers claiming reviews influence their purchase decision and knowing that displaying reviews boosts conversions by 270%, they not only improve search rankings but fuel the overall local SEO efforts.
8. 88% of local searches are performed on mobile phones.
The importance of local SEO for both mobile and desktop searches becomes more evident when you look at the actual numbers. And numbers point to an incredible 88% of smartphone users searching locally and another 84% of people searching for local products or services on their computers or tablets. So, if you haven't done that already, start working on optimizing your site for mobile so you don't miss on this unique opportunity.
9. Local small businesses are searched on mobile by 58% of people.
Local SEO trends show more than half of the people searching locally do so to locate small businesses. If you own a small business and have doubts about whether your local SEO strategy is leading you in the right direction, try to be prepared to address their needs and questions at the time they are doing the search. It won't cost you a thing but is still a great way to grow your customer base
10. Mobile-Friendly Website
Your website must display on phone and tablets in user-friendly way. Mobile devices such as smart phones have become the primary way we communicate with the world. If your website is not designed for mobile, the user is likely to move on to a competitor who makes it easy for her to access information via her phone. Google also takes mobile performance into consideration when ranking in search. At MorePro, we use responsive WordPress templates for all websites we design. Responsive websites adapt to the device being used – whether it is a phone, tablet or desktop.
11. Keyword Rich Title & Tags
Each page on your website needs an optimized title. Just like the title of an article, the page title describes the content and should include the focus keyword. In addition, titles should be no more than 60 characters, because that is the maximum length displayed in Google search. Longer titles will be cut off with an ellipsis (…) at the end. In general, the closer the keyword is to the beginning of the title tag, the more weight it has with search engines. However, a good page title not only includes the focus keyword, but quickly tells the reader what the page is about. It must be clear and concise.
In the Meta Description tag, you have 160 characters or less to include the focus keyword and describe the content of the page. Although the use of a keyword in the Meta Description does not help your search ranking, the keyword will be shown in bold which catches the readers eye and can increase click-thru rate to your page.
The description is displayed on search engine results pages (SERPs) and tells readers what your page is about. It's a critical step because at this point, the reader is going to decide if he will click on your listing. If you don't write a Meta Description tag, Google will auto select it for you – typically picking up the first few lines of your page content – regardless of whether that's a good summary of your page and the message you want to convey.
12. Keyword in first 100 words
Our experienced SEO writers know how to weave a keyword phrase into the beginning paragraph of your page while also capturing the reader's attention with compelling content. It's important for the keyword phrase to appear in the first 100 words because it helps Google understand the topic and relevance of the content.
13. Outbound Links
An outbound link is a link to another website. But why would you want to direct people to a website outside of your own? Afterall, you worked hard to get them on your page. Outbound links show Google that your content is valid and informative. Just like a newspaper or magazine article includes quotes, statistics and supporting details pulled from other sources, your website content should do the same. Outbound links can also help you build relationships with other businesses. Including links to complementary businesses in your area, local media outlets, official organizations like Convention and Visitors Bureaus, etc. can create opportunities for partnering offline as well.
14. Target Keyword in the URL
We follow best practices for URL structure, which includes constructing a URL that tells the reader what the destination page is about. URLs are important for readers and search engines so MorePro constructs them in a strategic way.
15. Long-form Content
As we stated above, Google is placing more emphasis on quality content and typically that also means longer content. Google wants to match user search with the website page that best answers their question. Studies show that a minimum of 1000 words is recommended for core website content (your site's main pages.) Longer content is more authentic and shows Google that research, thought, and planning was put into the writing. Of course, you could just put words on a page to hit the minimum word count, but that's not what MorePro does. Our in-house writers are experts at crafting compelling messages that appeal to people and Google.
16. Internal Linking
An internal link is a link that connects to a page on your own website. Internal links helps reduce bounce rates by keeping people on your site, they provide links to relative information for readers, and are important components of optimization. A good internal link will include the keyword (called anchor text) that relates to the page you are linking to. Internal links also provide a good user experience by guiding the reader to through your website in a logical way.
17. Image Optimization
Image optimization is an easy to overlook component of your website. Although you may take great care in choosing the right images, those images need to be tagged properly. Every photo on your website should have a few words or a sentence describing it. This description is called "Alternative Text" or "Alt Text" and placed in the coding of your website.
The Alt Text performs two important functions. First, it allows Screen Reading Technology and other devices to "read" the photo for those who are visually impaired. Google also uses Alt Text for ranking in Image search, which is another opportunity for your website to get in front of the right people.
18. Ensure a Fast Website
Google uses page speed as a factor in ranking websites, so you need to ensure the right steps are taken to keep your website running fast. Even more importantly, a slow website creates a bad user experience. The average person will only wait a few seconds for a site to load before moving onto the next website! Our programming experts know how to optimize your site for speed, including decluttering plugins and choosing the right hosting.
19. Be Active on Social Media
Although Google doesn't apply direct ranking improvements from social media, they do use Reviews, and you can improve your site's popularity and traffic by being active and responding to reviews on Google My Business Facebook, and Bing Business. Expanding your social reach and including relevant links to your website in Instagram, and Twitter will increase website traffic.
20. Be Proactive with Your Website

Google likes to see active sites so once an edit has been made or content added resubmit the page at Google's Search Console to insure it gets indexed.
Contact MorePro Marketing in Phoenix
MorePro Marketing has a 22-year track record of improving digital marketing efforts for both large and small businesses. Partner with us to meet your goals!
Call us at (602) 249-2432 or use our contact form.