Welcome back to another exciting edition of how to run a successful blog. This week I am going to talk about the social media aspect when running your blog including some tips on what to do and what not to do when submitting your site/posts. I will show you where to submit and where not to submit, depending on whether you are looking for link juice or simply exposure.
For additional social linking tips, you can refer to my post about how to run a successful link building campaign using social linking. So let's jump right in shall we? As I answer some of those tough questions I know you have.
What Social Media sites should I use?
Social media sites come in all shapes and sizes. There are so many all over the web it can be hard to tell which ones are good and which ones are rubbish. Some of the biggest and most important social networks you should be involved in are:
If you haven't heard about Twitter by now then you obviously live under a rock. While there are still people out there that refuse to use Twitter, if you run a blog it is a must. It is a great way to reach out to your audience. Twitter is also a great source of finding new topics for blog posts because you can see what the hot, trendy topics are. This will ultimately bring you that qualified traffic you are looking for. DO NOT UNDERESTIMATE THE POWER OF THE TWITTER (a little Star Wars humor right? Ok no…)
Facebook
Who doesn't have a Facebook profile these days? If you have a blog I'm sure you also have a facebook profile. Sharing your blog posts with your friends is a great way to get traffic to you site. If your friends like your post tell them to share it with their friends and so on. Think of it like word of mouth advertising.
You can also get a Facebook page that is strictly for your blog. There are plugins and programs out there that will auto post your new blog content to your Facebook page. This is another great way to gain traffic once you have a decent amount of "fans" if you write good content this should be no trouble for you.
Digg
Digg is one of those social sites that if you can make it on the front page you will be golden for life… Now getting on the front page is a whole other story as it is no easy task at all. There are some sites that no matter how hard they try they just can't seem to make it onto Digg. My best advice with Digg is to just submit it and forget it. Yea ask your followers on Twitter and Facebook to "Digg" your post for you, but don't make it an obsession. If it happens it happens and let's hope you have a server that can hold up to the amount of visitors you will be receiving when it does happen for you.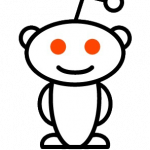 Reddit
Reddit is another site similar to Digg except you have a lot better chance of making it on the front page. Be ready to receive an over whelming amount of traffic once you hit that front page as well. I highly recommend spending more time getting on the front page of Reddit over the front page of Digg. Once you have a big enough following on Reddit then shift your focus over to the Diggers.
StumbleUpon
This is by far my favorite of the social media sites because it is easy to submit to and drives great traffic to you site. In fact, some of you reading this post right now may have found it via Stumble (if you did please thumb it up J ). One of the best and fastest ways of getting traffic is to stumble your blog posts. Will it drive the most qualified traffic? Probably not but there is a good chance that stumblers will give your blog post a good read through. And they always seem to be very nice about thumbing you up or down if they liked your post.
Is any specific one better than the others?
Is one better than the other… no I would not say that. All the social media sites listed above can and will drive an enormous amount of traffic to your site once you are well established in the network. Will one work better for you at first over another one? Yes… Like I mentioned above, I think Stumble is a great stepping stone for getting your site into the social world. Facebook is another great site to utilize, as it consists of sending your posts to all your friends. You should/will get probably the most constructive critism from your friends about what was good what was bad. Continue to always submit to Digg, Reddit, Twitter and one day those will also provide you with some great traffic to your sites and will build that community that you have been wanting on your blog.
Should I submit all my blog posts to social sites or just some of them?
Yes 90% of the time you are going to want to submit every blog post you write. That 10% that you don't submit might be short update posts that are less than 150 words long. Don't submit those. They are a waste of your time and will provide you with next to nothing.
How do I get my readers to social bookmark me?
This is like asking where the holy grail is… If we knew how to get you readers to stumble/digg/reddit/retweet ect we would all be happy bloggers. But alas we do not have a clear idea on how to get people to re-social our posts. You just have to continue to ask nicely and pray they will do it for you.
Well that does it for this week's post. I hope it was a least a little bit helpful. Please remember I'd love to hear from you in the comments section and if you feel up to it please social the post as well,  I would be most grateful. Look out for the next part in the series about how to run a successful blog with the topic on updating your blog.