Press Release History
For over 100 years, the common press release has been used by public relations companies and professionals to promote the companies they represent.  The typical press release can focus on a new product announcement, the hiring or promotion of an influential executive or can be used to act as a arp" to cover the fall-out from bad press.  Historically, the first press release ever, was submitted to help shield the Pennsylvania Railroad after a horrible accident.  The release was delivered before the news media could react and create their own versions of what might have happened. (Source: http://en.wikipedia.org/wiki/Press_release)
Traditional Distribution
Using traditional methods of distribution, a press release's target audience is the media itself – those influential writers and news media outlets that would be capable of turning a "nobody" into an overnight sensation.  By targeting national newspapers, magazines and media outlets, a company or individual would have a much better chance of getting the story distributed the way they wanted to (versus the media's interpretation).
Promoting
Press releases are typically written by the company which the release is promoting (or who the story is about).  A lot of critics have argued that this one-way point of view is misleading and contradictory to the types of honest stories that the media would report through research and interviews (Ya right, huh?).
Moving forward to the late 1990's and early 2000's, the Internet has played an ever increasing role in the purpose and method, with which press releases have been utilized.  A new generation of "optimized press releases" has emerged, much of it due to the high-demand of SEO companies and fledgling online businesses looking for an edge.


Sample Press Release Summaries
Optimized Press Releases
So what exactly does an optimized press release look like?   Before we jump to that, we must first define "optimization" for those not familiar with the art of SEO (Search Engine Optimization).  It's basically building up a theme and authority for a given website, with the sole intention of improving that site's search engine rankings (results from a search query).  This is done using a variety of methods, including using the keywords on the website, building incoming links to the website and others.
An optimized press release takes the idea of SEO to another level.  During a time when most webmasters focused on optimizing the content on their own site, the first originators of the optimized press release had one goal in mind – to increase the number of "one-way" links to the website of the release's focus.
By optimizing a press release for the keywords and phrases that your website is targeting, and then submitting it for global online distribution, one can quickly build up the number of incoming links (backlinks) to their website.  Of course, the more backlinks you have, the better you should rank for the keywords that you've targeted.
Backlinks from Press Releases
A lot of companies that submit press releases for online distribution fail to take advantage of the optimization opportunities that are available.  I could show you hundreds of press releases that are submitted each day without any hint of optimization -How much money are they spending for virtually no benefits to their online business (& revenue)?
The key to optimizing press releases for distribution is the use of "anchor text links" within the body of the press release.  Anchor text is the keyword or phrase that is linked to another page or website; anchor text is typically identified by the blue font and underline.  It's possible to submit press releases with your URL in them, but if you're not using the anchor text, you're wasting your money.  By implementing the anchor text links, you'll get a free link from every site that picks up your release.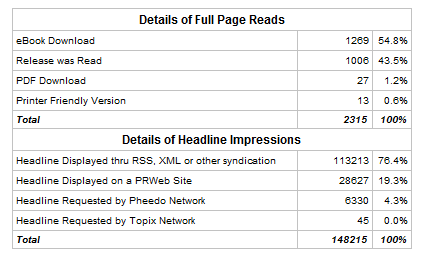 Sample Press Release Distribution Stats
That begs the question; how does a press release get picked up online?  The answer: RSS Feeds… These are the keys to distributing an optimized press release quickly and effectively online.  You choose the optimized RSS feed categories and topics that your release is about, and once approved, your release gets distributed via RSS/XML to hundreds, sometimes thousands of other relevant websites who've chosen to display those category news items.  Not only do you get the backlinks from the press release distributor, but you also get links from the sites that pick-up your release and distribute it on their website.  In some industries, this could be thousands of websites – and it all happens very, very quickly.
Summary
Submitting optimized press releases is good for your SEO campaign and general search engine marketing strategy.  Knowing what to submit, and how to submit it, is the key to your success.
For more information on how MorePro can help you achieve higher search engine rankings through press release distribution, please click here or call (866) 249-2432.
Cory Howell
SEO Strategist